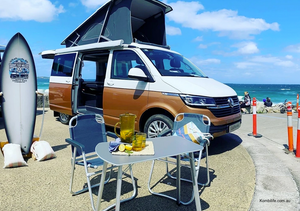 Living the dream: campervans the latest craze
For many people, the word campervan conjurs up images of the classic VW Kombi van kitted out with a mattress in the back and a surfboard or two on the roof.
We've come a long way from the creation of that first Kombi in 1949 by a fellow Dutchman and the model has certainly stood the test of time.
But other models are now getting on the bandwagon with customers able to choose from a short or long wheel-based van on which to build their dream home away from home.
We're now seeing campervans made from a range of popular models, including Mercedes Benz, Sprinter and VW Crafter.
There is no doubt the COVID pandemic has contributed to the boost in van and van fit-out enquiries.
With Aussies unable to travel overseas there has been a resurgence of the traditional camping holiday.
The stats
An August 2020 research report from Camplify Australia, a van sharing platform, reported a huge increase in demand for campervan holiday rentals.
Last year saw a massive 148% increase in bookings in May and June compared to the same period the year before.
However it seems the trend has been building for a number of years.
According to the Australian Bureau of Statistics, ownership of RVs (including towable caravans and camper trailers, motorhomes and campervans, 'pop tops' where a tent pops out of the roof of a van, Kombis and converted panel vans)  has grown 5.2 per cent a year for the past five years, faster than any other vehicle type in Australia.
The Caravan Industry Association of Australia's inaugural RV Consumer report reveals the average age of a campervan home owner is 33 and not the over 50 grey nomads, as might be expected.
At Motexion Australia, we're seeing this trend playing out with an increase in enquiries from people who are keen to buy a new or used van and have it converted into a bespoke design of their choice.
While some buyers want to do the conversations themselves, others seek out van conversation companies who offer a range of fit out options.
We supply to both individuals, the automotive industry and van conversion companies, like Vango and VanCraft Fitouts, and you can check out some of their awesome designs on their websites.
What do we provide?
While the interior of the van might be the less sexy side, it is important to provide a good solid base on which to add your fantasy elements.
For example, we provide quality, non-slip hardwearing floors that are easy to install with multiple tie down points and online video instructions.  Importantly, the wood we use is birch plywood from forests that are sustainably managed.
Our next most popular van fit out items are wall panels. These are important because they can hide your wiring, plumbing and insulation.
We also sell items like wheel arch boxes, roof bars and side and rear steps to allow for easy access.
Why is quality important?
A van conversation can cost anything from $3,000 to $60,000 or more on top of the price of the van itself.  If you are spending all of that money to attach your fit out to your van, you'll want to make sure your base is solid enough to last the distance and is supplied by a reputable company with great customer service.
Come check us out
We'll have a stand at this year's Caravan Camping Supershow https://www.supershow.com.au/ from April 13-18 – so come along and chat to us and see all of our products first hand and start planning your home on wheels for future adventures.
If you need help in the meantime don't hesitate to call us on 0433 975 544.
Photo credit:  https://www.kombilife.com.au
---